Tank Pod
This model was built for a competition at EagleTransporter.com. The idea was basically to design and build a new pod that would fit the Product Enterprises die-cast eagle. I didn't win the competition (but came a respectable third), it was won by the excellent Hover Pod.
---
---
Construction
My original idea was to build a fast scout craft using the four aluminium engine bells.
The ends of the die-cast pod were cut off and, and the sides of the 'thin' pod covered with styrene sheet.
I changed my mind and decided to make a ground vehicle instead, then drew a sketch literally on the back of an envelope. The final model didn't turn out too different from this (apart from the wheels). To make it look more like the alpha tanks (from the episode "The Infernal Machine") I decided to use tank threads from a 1/72 Warrior APC.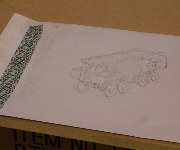 The basic shape of the body was made from Perspex tube and sheet. I then finished it off with styrene sheet, until I got the shape I wanted. The bottom of the Warrior was cut in half and the ends filled in. These were fixed to the bottom of the pod.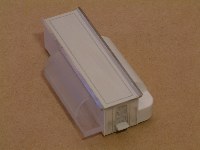 The side doors were cut from the die-cast pod and built up with plastic sheet. Some eagle beak type panels were stuck on, and the tank treads were put together at this stage.
I used some kit parts for detail and made some big tanks for the rear. After fixing the bottom ones on I realised it would be easier to paint the model first before attachment. So I left the top ones off.
---
Painting
The pod was first coated with Halfords grey primer. Then white primer was used in light coats, so that parts of the grey still showed through. This gave a reasonable match to the Product Enterprise colour. Some decals were used, and the pod was weathered with graphite.
I used Halfords satin varnish to finish it off. This goes on a little too thick for a model of this size, and is a bit too shiny. If I were doing it again, I would use Microscale flat instead.
Finally two VTOL engines from the original pod were fixed to the underside, and the painted tank treads stuck in place.
---
---
_Main Page_
_CGI Models_
_Models and Props_
_Links_
You can email me at tobor@btinternet.com